The largest bank in Italy, Banca Generali announced that it will allow its users to buy Bitcoin and other cryptocurrencies. The move has been praised by analysts who believe this is the first step towards a full-scale mainstream adoption of digital currencies.
The "conio" is a cryptocurrency that is being used by the Banca Generali. The bank will allow its users to buy Bitcoin with their credit cards.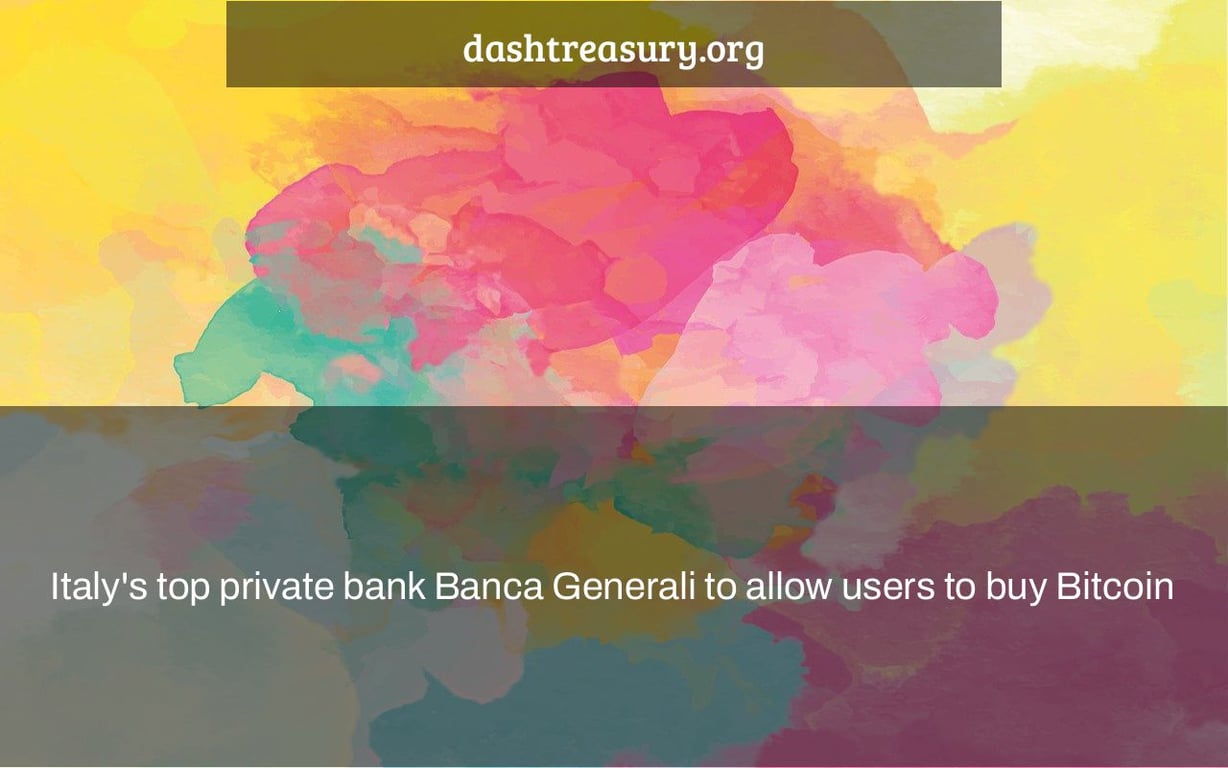 This year, almost 300,000 Banca Generali clients will be able to buy and retain Bitcoin.
The functionality was made possible thanks to Bance Generali's collaboration with cryptocurrency platform Conio, which will be included into the bank's Home Bank app.
Bitcoin trading will be available at Banca Generali.
Banca Generali's private customers will be able to purchase and sell Bitcoin using the bank's application, according to a recent article from We Wealth. The bank will integrate the Conio Inc. platform into its Home Banking system, allowing customers to trade cryptocurrencies without having to leave the bank's online infrastructure.
In December 2020, the bank invested $14 million in Conio and has since offered bitcoin storage to its customers.
The integration of the Conio platform is expected to be finished early in 2022, according to Riccardo Renna, Banca Generali's COO.
"Once the integration is complete, customers will be able to engage securely with an asset type that, if treated wrong, may be quite dangerous."
Renna went on to say that the incorporation of Bitcoin was part of the bank's bigger strategy to give new and creative services to its bankers and customers.
"We collaborated with Conio to develop a cutting-edge custody solution based on a multi-signature system that assures the security of our customers' Bitcoin and the potential of wallet recovery in specific circumstances, such as inheritance." The recovery procedure is enabled via a third key, which Banca Generali retains on behalf of our customers and which allows them to retrieve their wallets if necessary. This, we feel, is the fundamental strength of our proposition, and it is what will set us apart from the competition."
Banca Generali is a subsidiary of the Generali Group, one of the top ten insurers in the world. It caters to high net worth individuals (HNWIs) seeking private banking and wealth management services and is known as Italy's top private bank.
Newsletter
The most relevant daily news in the worlds of crypto, DeFi, NFTs, and more are summarized here.
Gain a competitive advantage in the cryptoasset market.
As a premium Edge member, you'll get additional crypto insights and context in every story.
Analyses of the whole chain
Snapshots of prices
a little more context
For just $19 a month, you can become a member right now. Examine all of the advantages.
Watch This Video-
The "Italy's top private bank Banca Generali to allow users to buy Bitcoin" is a recent news story. It has been reported that the bank will now allow its clients to buy cryptocurrency. The article also explains why cryptocurrency is valuable. Reference: why is cryptocurrency valuable.
Related Tags
when to buy bitcoin 2021
who owns the most bitcoin
what is one bitcoin worth