MicroStrategy, a US-based data analytics company, has purchased $414.4 million worth of Bitcoin as part of their long term strategy to purchase both cryptocurrency and blockchain technology. The move by MicroStrategy is one of the largest ever made in an attempt to invest in new technologies that will revolutionize business processes.
The "micron bitcoin" is a cryptocurrency that has been made by MicroStrategy. The company purchased $414.4 million worth of Bitcoin, with total BTC balance eclipsing $3.5 billion.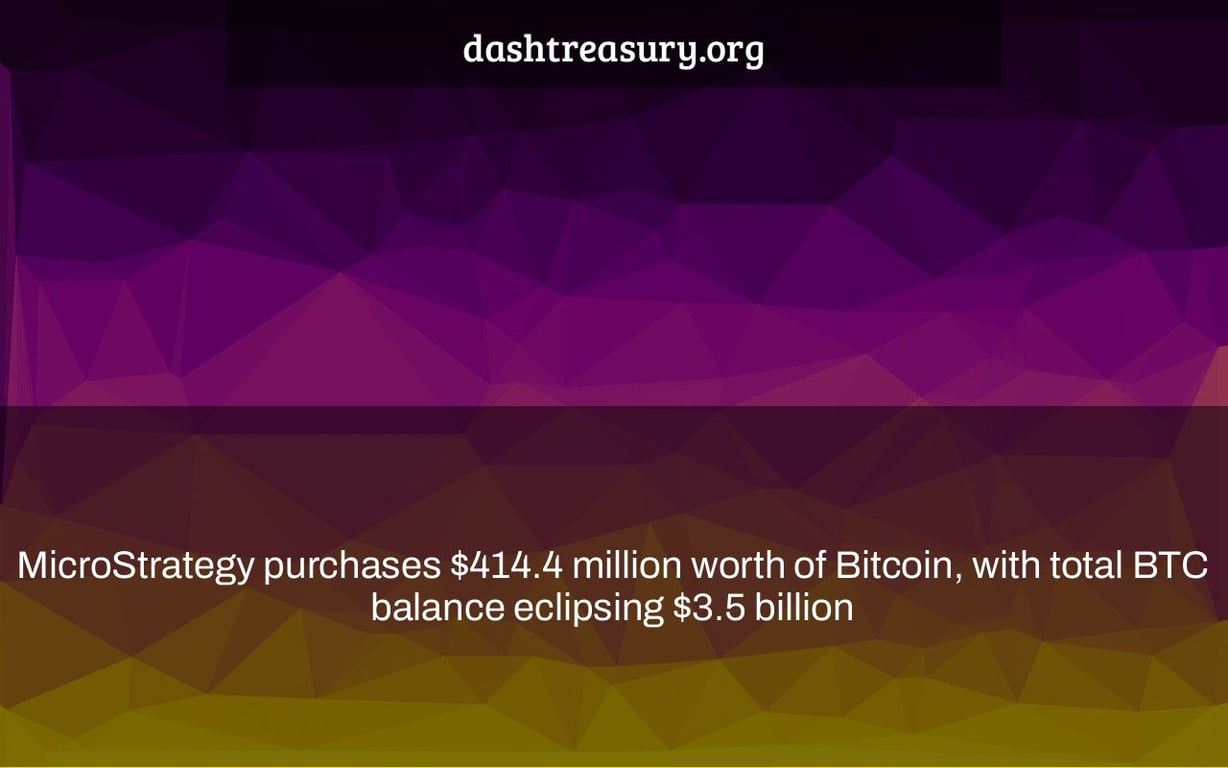 MicroStrategy's CEO, Michael Saylor, disclosed Monday on Twitter and in a business filing that the company has bought an additional 7,002 Bitcoin (BTC) valued about $414.4 million at an average price of $59,187 per coin. MicroStrategy raised $414.4 million in cash by selling 571,001 shares of company stock for $732.16 each between Oct. 1 and Nov. 29.
At an average price of $59,187 per bitcoin, MicroStrategy has acquired an additional 7,002 bitcoins for $414 million in cash. We #hodl 121,044 bitcoins for $3.57 billion on November 29th, at an average price of $29,534 per bitcoin. $MSTR https://t.co/OA8VWG1bZX
November 29, 2021 — Michael Saylor (@saylor)
The corporation currently holds 121,044 BTC, valued up to $3.57 billion, as of Monday. It was purchased for an average of $29,534 per coin, with capital appreciation from prior coins included.
MicroStrategy announced in August 2020 that Bitcoin will be its treasury reserve asset, claiming the digital currency as a "reliable store of value" and an appealing investment with higher long-term return potentials than cash. Furthermore, the business called attention to governments' exceptional support to battle COVID-19 as a trigger for probable inflation and consequent devaluation of fiat currencies. MicroStrategy has virtually always acquired Bitcoin every quarter since that time.
Ordinarily, common investors lose money when the price of Bitcoin falls and make money when the price rises. However, this isn't always the case with MicroStrategy. According to MicroStrategy's earnings conference transcript from last month, the company's Bitcoin holdings are classed as "indefinite-lived intangible assets under relevant accounting standards," according to Phong Le, president and chief financial officer. This implies that if the fair value, or market value, of Bitcoin falls below its book value at any point after its purchase, the corporation will have to record impairment costs. These impairment costs may subsequently be used to offset the company's corporate income tax bill.
Watch This Video-
The "sec crypto news" is a major development in the world of cryptocurrency. MicroStrategy, a software company that specializes in business intelligence and data visualization, has purchased $414.4 million worth of Bitcoin, with total BTC balance eclipsing $3.5 billion.
Related Tags
microstrategy bitcoin press release
microstrategy balance sheet bitcoin
o leary bitcoin
ethereum tanking
microstrategy bitcoin tracker