Esports data is a top priority for many gaming platforms, as they need to determine which games their users are the most interested in. GameScorekeeper will make this process simpler by integrating into crypto's next-gen dApp ecosystem.
The "esports scholarships" is a decentralized application that allows users to view, create and share esports data. The app will use the blockchain to bring esports data on-chain.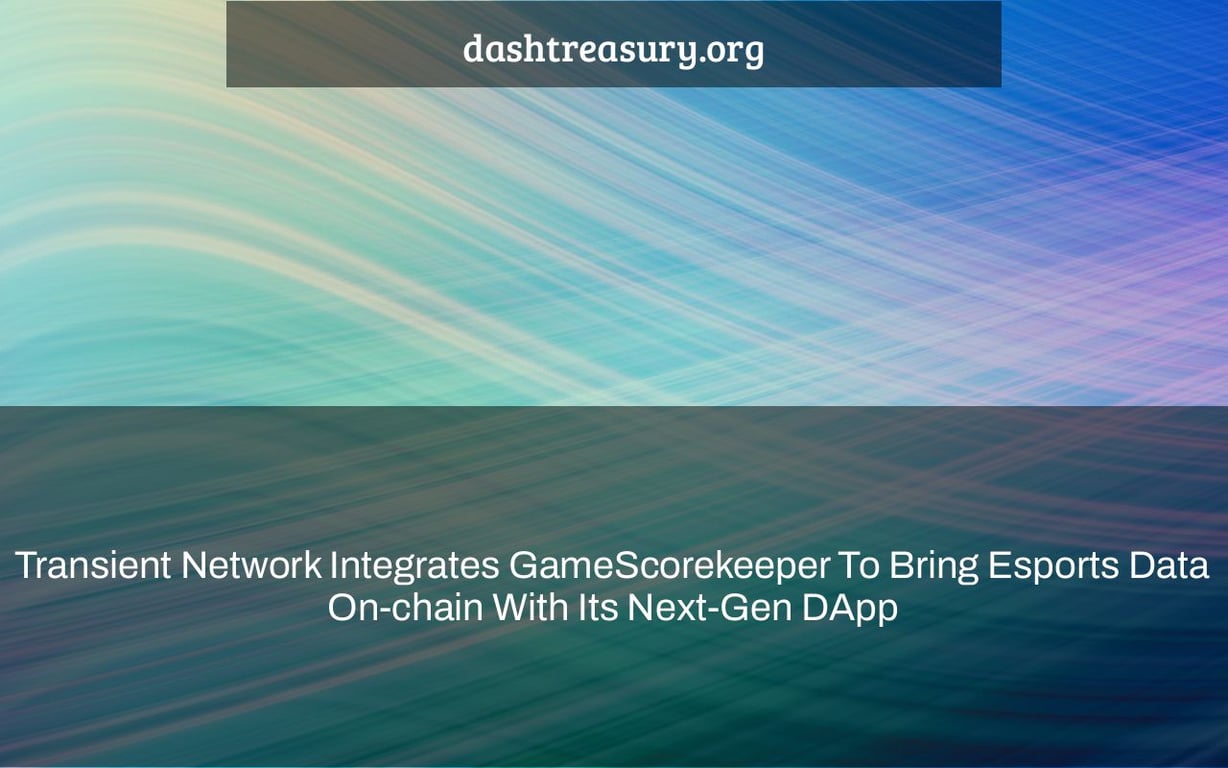 21st December 2021, Tortola, British Virgin Islands
GameScorekeeper, a leading eSports solutions provider that tracks and captures data from all major and minor leagues and tournaments in League of Legends, Counter-Strike: Global Offensive, Dota 2, Valorant, Honor of Kings, Arena of Valor, and Overwatch, has partnered with Transient Network, a Smart Contract Global Marketplace. Every year, it covers around 100,000 esports contests.
Transient is creating the "Amazon of Smart Contracts," a worldwide marketplace of decentralized apps (DApps) aimed at assisting ordinary people in creating self-enforcing and self-executing smart contracts for particular use cases and sectors. It intends to have an influence on current markets by utilizing its dApp marketplace. And the esports industry is a constant that has shown up time and time again owing to the commonalities of the communities and the variety of possible use cases.
Transient Network will join the esports field in a major way with its forthcoming Esports dApp, which will take social betting and content-driven experiences to the next level, thanks to its partnership with GameScorekeeper. Transient will get an expanded coverage of esports data from GameScorekeeper in order to enable automated market formation and settlements, letting users to construct their own betting markets and participate in the rapidly increasing esports wagering business.
"We're happy to be collaborating with such an experienced team and intriguing company," stated Marc Burroughes, Chief Commercial Officer of GameScorekeeper. Transient is working on a really intriguing product that we believe will be a huge success, and we're dedicated to helping them every step of the way, just as we do with all of our clients."
GameScorekeeper collaborates with the industry's best sports betting operators to gather the greatest level of integrity data, which will be helpful for the Esports dApp's betting engine. Transient thinks that social betting and a content-driven platform will keep the esports community entertained.
To cater to the rising population of esports enthusiasts, GameScorekeeper will provide Transient access to their portfolio of advanced content-driven esports data, such as player statistics and stream URLs, in addition to giving very specific match and tournament data.
"Transient is delighted to take another big step in its journey into the gaming and esports industry by working with premier esports data supplier GameScorekeeper," stated Transient Network CEO Beau Olson. This collaboration is crucial in allowing our esports app (now under development) to deliver a diverse offering to our community."
GameScorekeeper Information
GameScorekeeper is an esports data expert that provides high-quality data and widgets to major industry participants like Pinnacle and DraftKings. Driven by a desire to provide esports enthusiasts with a greater degree of esports analytics in the sports betting, fantasy sports, and media sectors.
Visit the following websites for further information: Website | LinkedIn | Twitter | Instagram
Concerning Transient
Transient is a decentralized environment that allows people who aren't programmers to establish and administer Next-Gen contracts in the digital realm. Its Smart Contract Global Marketplace, which hosts and enables the immediate production and distribution of a broad variety of self-enforcing and self-executing smart contracts, was created from the bottom up to accelerate blockchain adoption throughout every sector of business and life.
Visit the following websites for further information: Website | Twitter | Telegram | YouTube | Medium
Contacts
Gabriel Zani is a writer and a musician.
Watch This Video-
Related Tags
female esports
is gaming a sport